Pork tenderloin (or pork fillet) is a popular cut of meat – and a great cut of pork for the grill. But not everyone is so familiar with its wild cousin—the wild boar tenderloin. Some believe it's a tough piece of meat, while others are afraid it might 'taste funny'. Well, rest assured, there's no funny tasting here. The meat lends itself to low and slow cooking…perfect for the smoker. And because of the wild boar's natural diet, the meat is packed with flavor, which in this recipe is only accentuated by minimal seasoning. If you haven't thought of trying wild boar yet, you'll definitely be convinced after trying this recipe.
Is Wild Boar Meat Tough?
While most tenderloins require minimal prepping, you should look out for any silver skin that needs to be trimmed off. If you leave the silver skin, it will prevent the spice rub from drawing in and make the tenderloins chewy. The meat is not fibrous like other cuts. So instead of an overnight dry brine, it only needs a few hours in the fridge with a spice rub.
The Wild Boar Tenderloin is surprisingly tender, especially when you smoke it. The meat tends to dry out when you use hot and fast methods, so for this recipe, a smoking temperature of 225°F, will result in a perfect "tender"loin (see what we did there?).
What Does Wild Boar Meat Taste Like?
Wild boar naturally feed on acorns and nuts, unlike the controlled grain-fed diets of most of the pork we consume. This not only results in a darker meat, but also more flavor. If you're not hunting it yourself, try to buy it from a reputable supplier – there is a difference in quality from one vendor to another. I buy mine from D'Artagnan – you can buy the ones I use here.
Usually, a pork tenderloin goes well with a Southern rub containing a lot of spices, but to make the most of the flavorful wild boar meat, you're much better off keeping the seasoning simple. Just a little pepper, garlic, and paprika is all you need to make this wild boar shine!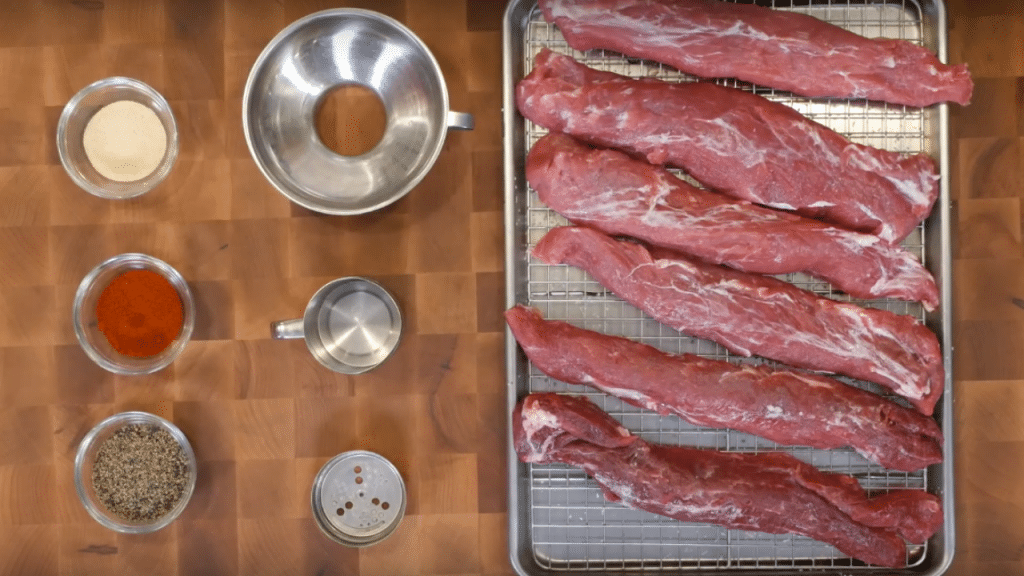 To What Temperature Do You Cook Tenderloin?
When cooking any type of meat, you want to invest in a good-quality meat thermometer. This will not only ensure that your meat is cooked perfectly, but also that it has reached a safe internal temperature to prevent food poisoning. This is especially important when it comes to game like wild boar. A temperature of 145°F is sufficient to kill any trichinella parasites that may be present in a wild hog. You can take it a little higher if you like, but don't let it get above 150°F or it will become dry and chewy.
Smoked Wild Boar Tenderloin
Apple wood offers a light fruity smoke that complements the flavor of the meat. This wild boar tenderloin will outshine pretty much any pork tenderloin recipe you've tried.
Equipment
A Smoker, or a Grill set up for smoking
Ingredients
2

Wild Boar Tenderloins

1

tbsp

Kosher Salt

2

tbsp

Ground Black Pepper

1

tbsp

Granulated Garlic

1

tbsp

Paprika

¼

cup

Avocado Oil

⅛

cup

Sugar Free BBQ Sauce

– Or with sugar if you're not keto! Just Pick Your Favorite
Instructions
Preheat your smoker to 225°F, using lump charcoal and apple wood chunks, or oak and apple pellets if you're using a pellet smoker.

Use a sharp boning knife to trim any visible silver skin from the tenderloin.

Place the wild boar tenderloins on a baking tray fitted with a wire rack. Use kosher salt to season the tenderloins on all sides. Refrigerate uncovered for 2 – 3 hours to give the salt time to penetrate and pull out any excess moisture.

Add the following to a spice shaker: 2 parts cracked black pepper, 1 part paprika, and 1 part granulated garlic. No need to add salt, as it's already included in the brining step.

The surface of the meat will be dry to the touch now, so you'll need to add a binder to hold the spices. Add avocado oil liberally over the tenderloins, using your hands to rub the oil into the meat. Season the tenderloins with your spice mixture, making sure that all sides are evenly coated. I like to smoke my tenderloins right on the rack – if you will too, make sure that you leave a little space between each to allow the smoke to penetrate into the meat.

Place the rack in the smoker, and insert food probes into the thickest part of the meat. Close the lid, and smoke for about an hour until the tenderloins reach a temperature of 130°F.

Glaze the tenderloins and smoke for another 15-30 minutes until the internal temperature reaches 145°F. It's a good idea to double-check the temperature with a Thermapen to be sure that each whole tenderloin has reached a safe temperature.

Loosely tent with aluminum foil and rest for 10-15 minutes.
Nutrition
Nutrition Facts
Smoked Wild Boar Tenderloin
Amount per Serving
% Daily Value*
* Percent Daily Values are based on a 2000 calorie diet.