Not ready to fork over $400 for a handmade Japanese butcher knife, but still want knives that are commercial kitchen quality and as beautiful as any kitchen tool made? Enter Dalstrong!
Use THIS LINK to save 10% site-wide – NO COUPON NEEDED!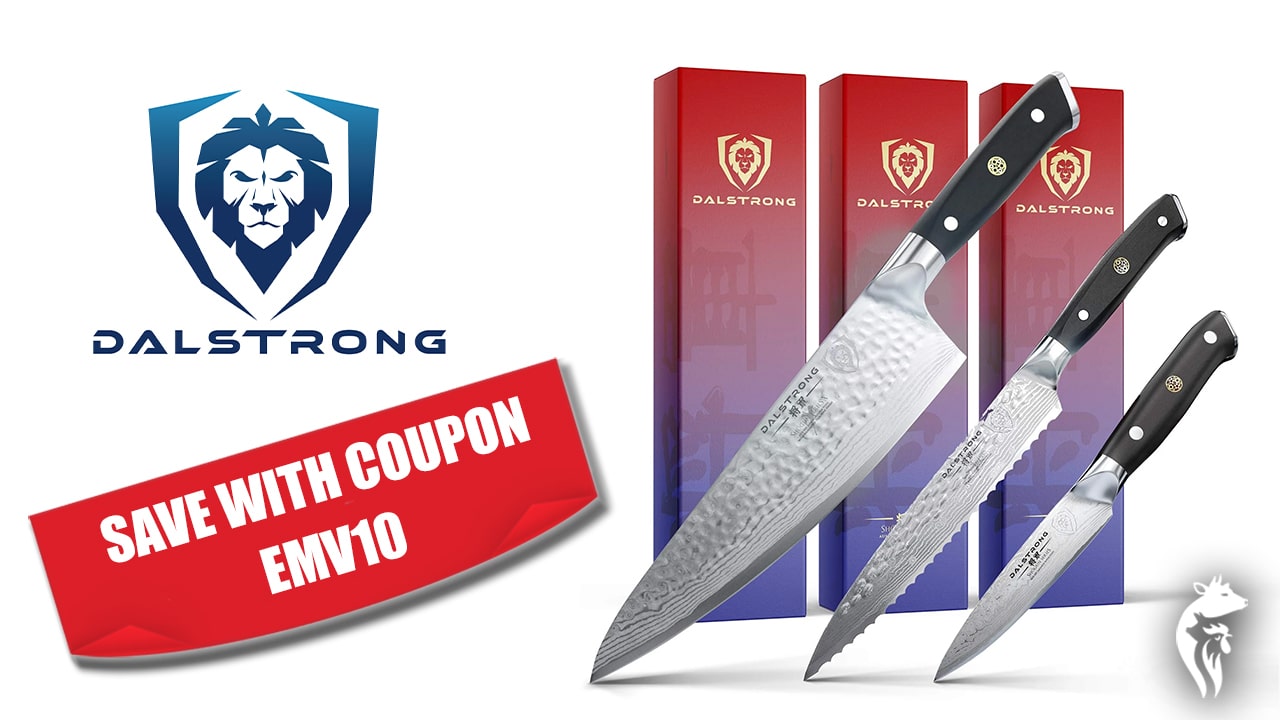 I am SO excited to announce my partnership with Dalstrong Knives, one of the top knife makers for any home cook. These sleek and beautiful knives are my favorite to use for trimming meat, chopping vegetables (yes, sometimes I use veggies!), and so much more. Whether you need one knife or a full set, these folks have you covered in quality and appeal. Plus, they are giving all of my followers 10% off their purchases!
Use THIS LINK to save 10% site-wide – NO COUPON NEEDED!
Why I Love Dalstrong Knives
I have been using these amazing knives in my kitchen since before starting Eat More Vegans. As a home chef, I needed a chef-quality knife and couldn't afford the fancy Japanese knives I so badly wanted. At the time, I couldn't even afford the Shogun series, which are their Japanese steel knives that are top of the line.
I decided on the German steel Gladiator series. This series has great performance and price and sells for 30%-50% less than other great and comparable German steel knives. And I love these knives. They are sharp with a comfortable handle. Still, I dreamed of owning the Shogun series one day.
After using these knives in my Eat More Vegans videos, my dream came true. Dalstrong finally agreed to partner with me, and I am upgrading my knives one by one to the Shogun Series! And they agreed to offer my followers 10% off all purchases on their website if they use THIS LINK – NO COUPON NEEDED! It is an honor to work with them!
About Dalstrong
This international knife brand is on a mission to provide "Innovative culinary tools made beautifully" to all chefs, foodies, and home cooks across the world. Dalstrong really cares about the little things that go into a great knife. These knives inspire all cooks with modern tools made to enhance the culinary, cooking, and BBQ experience. More than 45,000 chefs across the world have made the switch to Dalstrong knives. The reviews never lie, and this knife brand has over 10,000 5-Star verified Amazon reviews. If all else fails, Dalstrong offers a 100% satisfaction or your money-back guarantee and a lifetime warranty against defects.
The Knives I Use
Gladiator Series – These knives are named after fearless gladiators, warriors who have effective tools at their side. The Gladiator Series knives are made of a single piece of high-carbon German steel. Each blade is hand-sharpened 14-16 degrees per side. ensuring a swift and easy cut with minimal effort. G-10 Garolite creates the weighted, ergonomic handles, which is a military-grade fiberglass-like material. The handles are both heat and moisture-resistant, leading to a lifetime of use.
Shogun Series – Art and power combine into one elite knife set. The Shogun Series knives are meticulous in their craft. Each blade is crafted carefully over the course of 60 days using only the highest quality of materials. Superior AUS-10V steel outlines the blade. There are 67 layers of alternating SUS410 Damascus cladding. Each knife is hand-sharpened to 8-12 degrees on each side with a Tsuchime hammered finish. The hand-polished G-10 handle is made to last a lifetime and is engineered for superior knife control.